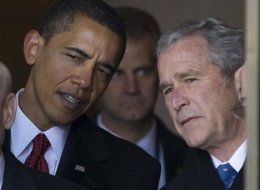 FLASHBACK: Obama Slams Bush Tax Cuts For 'Millionaires And Billionaires' [VIDEO]
Over the past three months, Obama described the Bush-era program that he's now adopting as his own as "tax cuts for millionaires and billionaires" no fewer than 50 times, according to a review of his stump speeches, weekly addresses, and comments to campaign donors and members of the news media.
The rhetoric was deliberate: Obama was trying to cast Republicans as the party of the wealthy while his fellow Democrats represented the middle class.
He used that rhetoric at campaign events across the country, from Los Angeles and Las Vegas to Des Moines, Iowa, and Richmond, Virginia.
During at least three pre-election rallies, Obama, playing to crowds filled with die-hard supporters, railed against the tax cuts for the wealthy, eliciting rounds of boos from the audience, according to White House transcripts.
But in addition to the class-warfare rhetoric, Obama described the tax cuts as unaffordable and ultimately ineffective.
On Sept. 25, during his weekly radio address Obama referred to the initiative as "tax breaks we cannot afford."
A few days later, during an event the White House billed as a "backyard discussion" at the home of a family in Albuquerque, New Mexico, Obama said the nation would "have to borrow the $700 billion" -- the estimated cost of the cuts over 10 years -- "from China or the Saudis or whoever is buying our debt, and then we'd pass off on average [a] $100,000 check to people who are making a million dollars, up to more than a billion dollars."
Obama wanted to make sure that his audience understood that either the U.S.'s main rival for decades to come would be financing the tax cut, or the nation that sells the U.S. most of its oil. He used the reference to China and Saudi Arabia a few times.
And while Republicans and some Democrats have claimed that no one -- even the wealthy -- should have their taxes raised during a recession because that could stunt the recovery, Obama cast aside those fears, arguing on Sept. 29 that "98 percent of Americans wouldn't see any benefit from it."
On Monday, the White House tone towards the tax cuts changed from hostility to acceptance. On a conference call with reporters, senior administration officials declined to explain why.
If passed by Congress, the tax initiative would expire in two years. The Federal Reserve forecasts the unemployment rate to hover around 8 percent at the end of 2012. Prior to the current recession, unemployment hadn't reached the 8 percent level since January 1984. There have been two recessions since then: 1990-91 and 2001.
It's unclear how the White House will be able to let the tax cuts lapse with 8 percent unemployment. Senior administration officials declined to comment when asked.
*************************
Ben Craw is the video editor for The Huffington Post. He can be reached at bencraw@huffingtonpost.com.