Just in case you were unaware of these remarkable likenesses of the buildings attacked, here are some of the photos that may help. They were printed in 1996 from what I remember; 5 years prior to 911.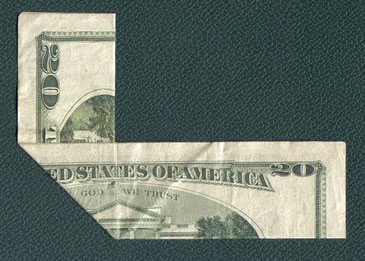 When you fold them up like an airplane, same fold every time with every bill, no real trick, just fold in half sideways and peel back both corners. You do it to the 5, 10, 20, 50 and $100 bills, they'll tell the story like a cartoon boo
k. On each side of the bills you'll also read United and America which were the two airlines. The $100 dollar bill is the most eery to me. If you fold it perfectly even and precise, it will show the smoke rising up from ground zero, back and forth, rotating sides of the bill itself, until the smoke is gone.
Without a doubt the biggest damn coincidence of all time or at the very least, the fact that it's one of the most unique string of oddities ever known to man; at least this man.
Here's something I found... -TH
The Twenty, both towers are in flames.
The hundred showing the smoldering pile of rubble after the Twin Towers had fallen.
Unthinking respect for authority is the greatest enemy of truth. – Albert Einstein